MATERIALS GUIDE
We work hard to deliver the best value to our customers. High-quality and durable materials are selected throughout the design of our shoes, to offer health-conscious footwear.
UPPERS
Leather is our preferred shoe upper material. The selected high-quality leather we use, coupled with other materials, such as fur, mesh or Lycra neoprene, offer a higher degree of warmth, protection, comfort, stretch or breathability.
While all leather is durable and robust, there are significant differences between them. Being a natural product, inconsistencies of colour and texture are a unique characteristic of each of our products. All types of leather have different degrees of resistance because of the techniques used in finishing the hides.
Material and colour are correlated. For colour consistency, leather hides are stripped of colour and then-drum dyed with colour and fade-resistant pigments. Leather will absorb dye differently, so you should expect colour variation.
This guide includes the colour/material range for all our collections. Please note that these are intended as a guide only and should not be considered precise.
Throughout the season, the availability of materials may change.
ARTIFICIAL LEATHER ::
This human-made resistant material is produced to look or function like leather.
CHEVREAU ::
Chevreau is produced from goat hide. Its surface is soft, smooth and supple. Quite stable in form, it moulds perfectly to the shape of the foot.
COATED SPLIT ::
Leather that has been specially treated to prevent the entry of water.
CROCO ::
Imprinted crocodile design onto leather to simulate crocodile skin.
FUR ::
Fur offers timeless beauty, warmth and long-lasting durability.
CALF ::
Calf is a very soft, fine-grain leather, which offers suppleness and exceptional durability.
LYCRA NEOPRENE ::
Lycra neoprene is a stretchable material that adapts optimally to the shape of the foot, enhancing comfort.
MESH ::
Mesh is a high-quality blend of fabrics that creates a lightweight and breathable textile, both soft and quick-drying.
METALLIC NAPPA ::
The uniqueness of this material is given by a metallic foil or powder that, when applied to nappa, makes it lustre and reflective.
NAPPA ::
Durable and protective, leather is a soft, natural material that is both breathable and insulating. It adapts to the shape of the foot, maximizing comfort and individualized fit. Leather controls feet temperature, providing warmth in cold temperatures and coolness in hotter temperatures.
DOUBLE-FACE ::
Double-face combination features a nappa, aniline or split upper side and a wool lining. It is used mainly for bootlegs and slipper uppers.
NUBUCK ::
Nubuck is top-grain leather that has been slightly brushed on the surface to create a delicate, velvety silky-soft and flexible cover, with a matte feel and warm grip. As it has a high open-pored texture, it is breathable - especially useful at permeating sweat.
WAXED NUBUCK (NUBOID) ::
Developed by Klaveness, this waxed nubuck has a slightly brushed surface and is drummed with Scotchgard and grease. It results in a water-resistant, durable, soft and comfortable material.
OXFORD LEATHER ::
Leather that has been specially treated to prevent the entry of water.
PATENT LEATHER ::
Patent leather has received a finish that involves applying a thick layer of varnish or lacquer to produce a characteristic glossy, mirror-like appearance.
PRINTED NUBUCK ::
Nubuck that has been treated with a unique printing technique to enhance the surface appearance.
REAL FUR ::
Real fur is a naturally thermostatic and breathable material, wicking heat and moisture away to keep your feet dry and at body temperature. It is specially used for bootleg tops.
REPTILE ::
Reptile design that has been imprinted onto leather to simulate reptile skin.
SPLIT ::
All leather hides have to be split into two layers because it is too thick. The bottom layer is known as split leather, generally thinner and lighter weight.
SPLIT EMBOSSED ::
Decorated split leather resultant by pressing a heated die onto the surface.
STRETCH ::
Results from a stretchable combination of materials, and adapts optimally to the shape of the foot, ensuring wearing comfort.
STRETCH NAPPA ::
This stretchable material results from a nappa-textile combination, and adapts optimally to the shape of the foot, ensuring wearing comfort.
STRETCH NUBUCK ::
This stretchable material results from a nubuck-textile combination, and adapts optimally to the shape of the foot, ensuring wearing comfort.
TEXTILE ::
Textile is breathable and lightweight, and can be made of natural or synthetic materials.
VEGETABLE LEATHER ::
Vegetable leather is tanned traditionally with vegetable agents, derived from determined plants and woods.
VELOUR ::
Velour is robust and breathable and resembles velvet in look and feel.
WAXED TEXTILE ::
A composite human-made material made of two layers: a backing layer made of textile combined with an external waxed surface.
WOOL BLEND FELT ::
Wool felt (90% wool+10% polyester) is a high-quality natural fibre, with excellent properties: it is skin-friendly, breathable, and heat-insulating, which helps keep feet at the right temperature.
LININGS
The lining is the inner shoe material that stays in contact with the foot. Its primary purpose is to cover the inside seams and lengthen the shoe's lifespan.
Lining materials must mainly provide optimal temperature regulation and draw out moisture. Soft and seam-free lining with foam padding, can, simultaneously, offer excellent comfort and protection.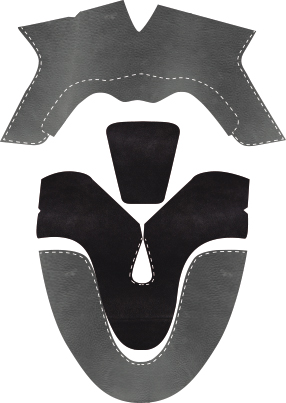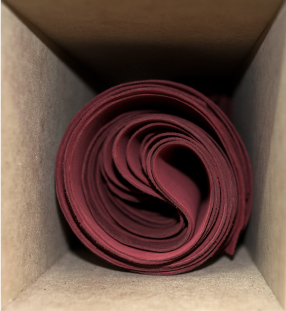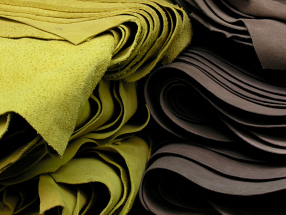 HOW DO WE REPRESENT EACH UPPER COLOUR/MATERIAL COMBINATION?
Each colour/material combination is represented by a three digit number (eg. Grey nappa is 764).
If a shoe upper has more than one colour/material this will be indicated by an hyphen (-) between each colour numbers (eg. Grey nappa and Grey reptile is 764-719).
The ranking of the colour numbers starts from the front of the shoe towards the heel.